Our company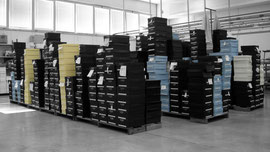 IL GRECO shoe factory was born in 1986 from the passion of the two brothers Fabrizio and Fulvio Quadrini for the ancient shoemaking tradition.
The company is located in Porto Sant'Elpidio, Marche region, in the heart of the shoemaking district of Fermo province.
Quality, passion for the details, creativity and strictness in the handcraft production, close to the innate taste from the italian flavour, are in the centre of IL GRECO's phylosophy.
IL GRECO shoes are handmade by artisans with years of experience, observing the old shoemaking techniques, using only high quality materials for the manufacturing. The result is a quality product.
Is exclusively to women that IL GRECO dedicate his collections. The woman that IL GRECO has in mind is attractive, dynamic, modern and determined, choose shoes with high heels without sacrificing comfort.